Sprayed Polyurethane Foam, also known as "SPF", is a closed cell roofing and insulation material that is rapidly gaining market share in today's construction industry.

Because it is sprayed on, it forms a seamless, monolithic barrier that prevents air and water infiltration. SPF systems are referred to as "self flashing" because they can be applied to vertical surfaces such as parapet walls and roof penetrations in a contiguous manner, thus eliminating seams and cold joints, the main source of roof leaks.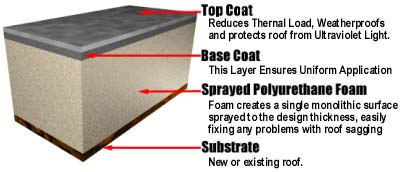 The roofing systems can be applied quickly and safely, without disruption to the facilities. What's nice about SPF systems is that in most reroofing applications there is no need to tear off existing membranes, offering cost and logistic advantages.